Wilson gets off to a quick start with River Bandits | Midwest Baseball League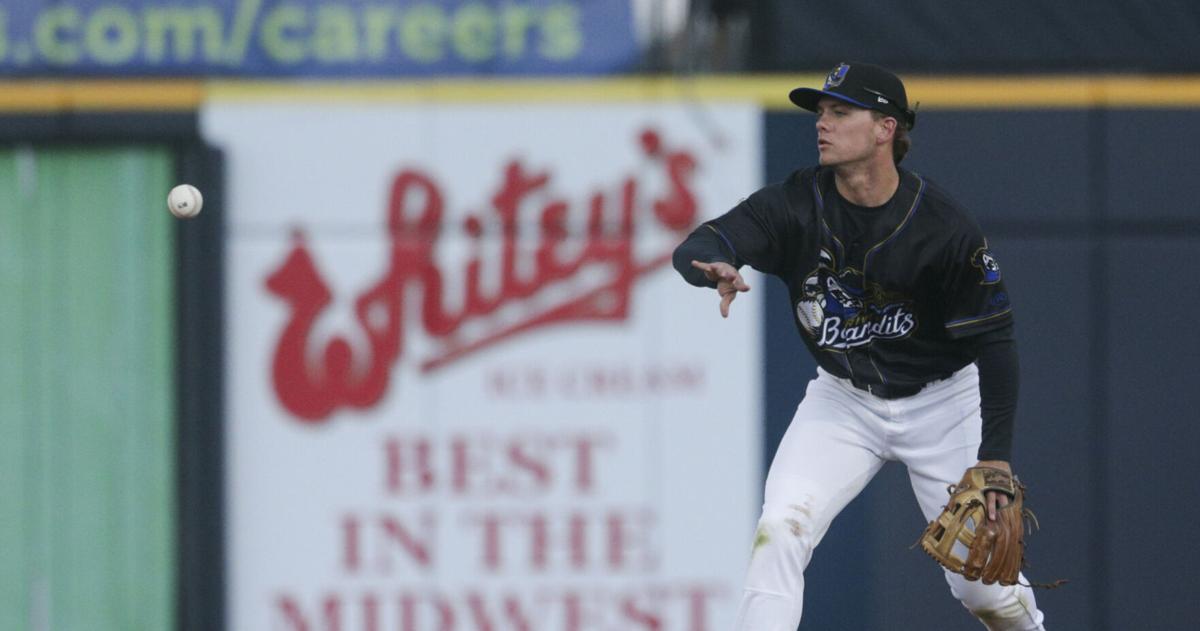 There was a chill in the air when Peyton Wilson traded Arizona's 90-degree heat for unusually cold temperatures in late April in the Midwest League last week.
But, Wilson joined the Quad Cities River Bandits last week swinging a hot bat.
He recorded extra hits in each of his first three games with Quad Cities and went for a .278 start at the plate in five games with the River Bandits.
"It feels good to start," Wilson said.
The start of the season was somewhat delayed for Wilson after suffering a mild hamstring injury in the final days of spring training, prompting an extended stay at the Kansas Royals' spring training complex. City before joining Quad Cities.
"It was nothing major, I just tweaked it the day before we left and they wanted to play it safe and make sure I was 100 per cent before they sent me off," Wilson said. "I feel good."
Above all, the Royals' second-round selection in the 2021 draft feels good to finally have the chance to begin his first full-season assignment in the Royals' organization.
That moment came last Tuesday and in games since Wilson's versatility was already on display in his first week of the season.
He played second base and had a blustery night in center field in his first games with the River Bandits, handling whatever came his way as part of a defense that ranks among the best in the Midwest. League.
"I'm good where I'm needed," Wilson said. "I'm used to moving around a bit. I'm probably a little more comfortable in second, I have more experience there, but honestly, in the infield or outfield, I roll with it and put what I have in the game.' '
Quad Cities manager Brooks Conrad managed the Columbia (SC) side that Wilson played for late last season at the low A level and loves what Wilson brings to the roster.
"He can help us in many ways. He has pop with his bat and he can play a few positions," Conrad said. "We are happy that he is here."
Wilson split his time as a catcher, infielder and outfielder during his college career in Alabama, the one place the Hoover, Alabama native really wanted to play out of high school.
"I grew up watching Alabama football, Alabama baseball, going to games almost every week as a kid. It didn't take a lot of persuasion when they proposed to me," Wilson said. "I joined when I was a sophomore in high school. There was no need to look elsewhere."
Alabama baseball and athletics have been part of Wilson's fabric throughout his life.
His father, Parker, was Boston's 21st-round draft pick in 1980 and spent three years playing on the left side of the infield in the Red Sox's farm system.
Wilson has two brothers who played for the Crimson Tide.
John Parker Wilson was a three-year starting quarterback for the Crimson Tide from 2006 to 2008 and currently works as an analyst on Alabama football radio broadcasts and Ross Wilson was a White Sox 10th round pick from Chicago in 2010 after his college career with the Tide.
"They're my biggest fans and we talk all the time," Wilson said. "Growing up I saw how hard they worked and that's something I took away from them. You have to keep working if you want to get anywhere in this game and that's always been the approach I have taken.
Wilson earned second-team Southeastern Conference honors at Alabama in 2021, earning a spot on the conference's all-newcomer team after batting .290 and starting in all 58 games Tide has played this season there.
He had hit .333 in 12 games for Alabama during the coronavirus-shortened 2020 season, but Wilson believes it was what happened between that year and the following spring that really made a difference. in his career.
With the college season shortened due to COVID-19 and most summer college leagues canceled that year, it took work for Wilson to find a summer opportunity in 2020.
An organization Wilson had played for in high school established an informal summer league, fielding four teams that played games twice a week in Merdian, Mississippi, about an hour's drive from Tuscaloosa.
"If not for this league, I don't believe I'm here today," Wilson said. "The scouts came and watched our games there – there were no other games going on – and that put me on their map. It really put me in a good position for the next season in Alabama. "
After being selected with the 66th overall pick in last year's draft, Wilson made his professional debut last summer.
He played 12 rookie-level games in the Arizona Complex League before earning a season-ending promotion to Columbia, where he completed more than .231 in 11 season-ending low-A games.
"It was only a few weeks there, but it was huge for me," Wilson said. "It gave me a taste of everyday life in the miners and gave me the chance to experience it all and approach this season, it was huge."
It has prepared him to compete for Quad Cities now and a season where Wilson expects growth.
His goals include working to continue playing solid defense and developing more control within his bats.
"I really see this as a year where I will have the chance to learn a lot and grow as a player," Wilson said. "I was looking forward to my first full season. There are good coaches here and I want to learn as much as possible from them. I'm excited to finally start the season and see what I can do with it.