Union Street Social Brings a New Hipster Vibe to the Local Restaurant Scene | Gas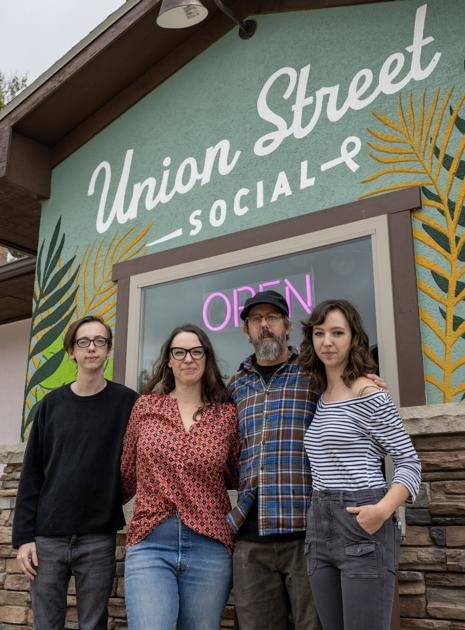 Happy Hour just got refreshed with a new joint at Emporia.
Union Street Social, located at 225 E. Sixth Ave., is a restaurant and lounge run by chef Amanda Hague and her husband Ben Hayes. Officially opened on September 16, Hague said the vision behind the restaurant is to bring something a little more upscale to the Emporia community.
"We really see it as a lounge where people want to relax and come together while having a really good cocktail, with really good food," Hague said.
And with Hague's backdrop, great food is a given.
If the name sounds familiar to you, it's no surprise. Hague was one of the first owners of Ad Astra in Strong City, which quickly became a popular dining destination in the Flint Hills. Hague left the restaurant in 2015 and her former business partner, Gwen Obermeyer, reopened the restaurant with new staff and new business partners.
That same year, Hague and Hayes took to the streets with the Surly Mermaid food truck, built from the hull of a 1956 Airstream. When the family moved from Matfield Green to Emporia in 2018, they were forced to move out. sell the food truck.
"I was very sad," Hague said of the sale of the truck. "Sadly, we fell in love with a house that has a common driveway and The Surly Mermaid certainly didn't fit there. As much as we tried to find a home … that's why we sold. And honestly we've been looking for somewhere downtown pretty much since we moved here.
After three years of looking for the right location and missing out, their real estate agent said the building at the corner of Sixth Avenue and Union Street was going to go on sale.
The former Union Street Station tavern, the long-standing home of the Lyon County Historical Society archives and, more recently, the Copper Top in The Hague, said the building did not immediately match the vision it had in mind. She wanted something more like what she had in Ad Astra – an old building with high ceilings.
"We've never been able to find anything where we wouldn't have to fit an entire kitchen and then there's always the parking issue," Hague said. "Then this became available and there was a full kitchen already built and we have parking. It really seemed to work.
This building was originally built to be a bar, and it looked like it.
"We didn't want to make a bar, but we wanted to have a place where you could relax and have high-end cocktails and dress up," Hague said. "We will have jazz bands and we have other things going on."
Hague and Hayes spent some time thinking about how they were going to "make it work" with "such an odd space". Eventually, they settled on a modern sweatshop. Work on the interior of the building began around April, although the public didn't really notice anything until the exterior painting began over the summer.
The menu includes a number of options that you simply cannot find elsewhere in Emporia.
There's the Niçoise salad – a hot homemade smoked salmon with roasted potatoes, a candied egg, tomatoes, cucumbers, radishes, marinated white beans, olives and green vegetables topped with a dijon vinaigrette – tarragon.
Mushroom Rueben offers 'tons' of sautéed mushrooms, caramelized onions, sauerkraut, pastrami mayonnaise and emmenthal over grilled rye straight from the Bread Man himself, Chad Decrow.
"We use his bread for our sandwiches," Hague said. "He makes a really good rye and he obviously bakes his bread with a lot of love and it shows so much."
A number of other options, including vegetarian and vegan options, round out the menu.
And then there are the cocktails. There are Negronis and old school cocktails. Gin and tonic, not quite what you're used to.
The Caffe Manhattan, Muddled Mission, Vesper – it's all leveled in a way that only a place like Union Street Social can deliver.
"We have a really good team of teachers and it's just great," Hague said. "They really understand and really care about the taste of the drink."
The Hague said she was delighted to see more people visit the restaurant in the coming weeks.
"I watch Radius and how packed they are all the time and it's like, obviously, we need another place because they're so busy all the time," she said. "We really try to create that special and fun atmosphere. This is really what we are looking for. "
Union Street Social is open from 3:00 p.m. to 11:00 p.m. Wednesday through Saturday, with Happy Hour drink specials from 3:00 p.m. to 5:00 p.m. Dinner service begins at 5:00 p.m.
On Sunday, the restaurant opens for brunch from 10 a.m. to 3 p.m.
Reservations are recommended but not required. You can call 620-208-6993 or make a reservation online at www.unionstreetsocial.com.