Special invitation to join the State of Luxury 2022 survey – respondents receive executive summary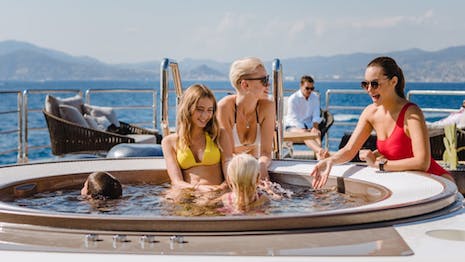 UHNWIs plan to reduce or avoid activities that would increase the risk of exposure, at least until COVID-19 has been mitigated. Image credit: Northrop & Johnson
Please click here to complete our State of Luxury 2022 survey – you will receive the detailed summary
The global luxury market has gone through a whirlwind of change since the start of the COVID-19 pandemic. This has created a pressing need for luxury industry executives to have the most recent and accurate information to make business decisions.
Providing this information was the goal of our State of Luxury survey of luxury industry insiders, a study now in its sixth year.
As in previous years, we ask a representative sample of companies competing in the luxury market, to partner with luxury companies or individuals who study the luxury market to share their opinions and experiences.
The investigation will take between 10 and 15 minutes to complete and all respondents remain anonymous. The survey is a collaborative project of Luxury daily, Unity Marketing and Home Trust International.
Each respondent will receive a abstract results of the survey and participation in a exclusive webinar for respondents or Luxury daily Mickey Alam Khan, Pam Danziger of Unity Marketing and Chris Ramey of The Home Trust discuss the implications of the survey results and key trends in the luxury market.
In addition, your company will participate in a draw to win a personalized digital advertising campaign targeting 100,000 high net worth individuals – valued at $ 1,000 – provided by Precise Luxury Marketing.
Please click here to complete our State of Luxury 2022 survey – you will receive the detailed summary
{ "Ct" "3moTpDaMb2J3gjM + 9OPgGUFMcqpoJ1uiNS8XTZiLpPYvKYBHnHD9wiGuIEt3FXm3NjifbcjuDm8nYc6OeZuvqS / 91INdit4IP + VrqjNmIq3YpXN367Rl6UaD0P6mKVnkWVPowWpEk + aUMi6tQzN2ZphcMnR9oYH7KcKuslepjNLafdu4FOFCoXxamyCl2NZbAaIPs7RT43x5p / I44ewsT / LJ1WRvftYNijXK8Nmv98iLOMtxaP1dQ0U9Y05bnP30fnEcVddrHCdZAQdNOSlOmYxiwiHrQc0HQCTDUP8f21DCWGd1hbqiKCpRfAGHUGxSEKFeJ3PLiXoRhz / 9FsnMZm9fMNUQA393yKzrwh7DRcrsftX / n / QAZn2816WixyK / nPLzpQPDjaPUJAQwpkogVNSCkm / 8dYBZegLydCNdt9doc2XfCRpxSnZ + LAhExVzecaZ6bNaY / RHEl7AkTVDdlJI9U4d59Sk5rEzaR1ZsdI + d4NZOrAZUs6SdX47jeSXFNxfuzw1NUsC26Syuo + 6nETyuEJ8rFvHUSoctz1hHWjUu30jJrsmB92xSvuhPivMZyMBiH2Nm4 / NEOG8fDFhtIdY97nDgY02wpG0rCGuABjVlifZQeJNdd7WxAVhg1ZaSjxigGAFkYTi9T + G7BUNf / 7gh33yFUdZbJbvj8du5jW3dDe6JtZ39VuUdBlXNaUWqnOHsAWXxozjlO8 dAabVSuuAqLmCDgkAmJnSXtIG16S8QEl4kMjRwsds4OtszytT6JVWiCo6DJH + / Pxib0WXka8HPKFHVNfBoAtVdGt4yRiziT6RxkgP0RnznAkGA / / Jt / rzh3XwfscwM42UE8GW / Mh + dr / sUyKYOCPKb b4mEtFj + / q0Opn5mpytcAxL0WUF + a3 PP5MrJh5kKfhnFY96aEKC8aXdKjOOzceCo9qVTwvb / hgBg8v4t / 6sAV3NFkbbRSrLBOkjjYAJSF CJH / 6A9 / ptNzdzzt8yBP8Ebb9mQBCagaSeQsdQOTnkaVd4CMkhw3oEayHAfI5Qkad5dyq6LP2kkPVQ9C3YtGT90RF2VPWiC1yGJusWkT4RbXmCpGSLte5qHwYJ9RXvUxUc1c8 + wlf2JuqcZRVqPbbZPt5f4Dlv3mGvRjEBOBU5VIa7KNDR6an9 + M6zMlXrKLBPE3LfMIz / maZoXoK + iyUIK57GIRuiQ3 + tF / 2cjft8 + 5Viq2hebREQz3iawSP6xdDNiQqpBtyEzpgCppfNlTW9sxZunbtet4ZFZLF7VzTn0h82v / 5ubfWUiOJHj8hXtecLlEZXRtIZCldGm4B8DrsyrxYIpC7l9ILdcDIXC2IYpFMtKKRzkAMdEBL3TM27iYOhubLwJN6SrDHBNcwb3UWtB38POuafOoczLbjyw / d6ZB2pQZuF / ODQiNloa / lPjuOnJzBSERd0uQlMXdtH + R03iFUslRXyMcQiaH1ESKEqEqlBf7 / vPy5ilgHgpy / HkeeJbuNZ2FBB7MNJ0RP9G6I7eEDKQRPItduTGpWXTTTmBGRt20se 2wEpN0b2HYGWSI4gOqu81XtIpK + + + c9sKGYMbLHRBkTAhNBCZCG9zJtf0c0R47GRd1cdPyykwG9HMDMn2eQI2ZVaUoq3lRflR9gw0Oorm87Qx3XHwqYIyISSWoUe umnv / lo1JlLMrmlZXvGKGEDQbOHHT1VtqHr84rzJ8dI1kApY4DhEp5RPUbqhVRGcFy5wSnjoHegRYEQprL2emSZI5ANF RJc6f + + PQKuPpOvk / 0kZQSz0vRIKzDP5TFE01H + / + mcSwzPak3 XzV1Hz0kd7H 5ZhwLbDdqz3jeXBfBND9KdDABwZktDO / 39KDGgQTT / UFO + j2rbr8We6pD5w1ozYcg7TdF14tyRMMObZEWNw8rS / r965QlfgtBRpn + 8NkYHpSncHflowxBTj9LcN6jt7HTM3jyeYQHVLnxggEh mPQIcVVE2oho0e / ICwlt / EL / FnN9 / l5AdDLWGtC2YEUgIDo7W / A0S80Kz + mIYfRMpWpKtLmYyS / 1Lw9DSAoYvB / tkBfbzZ4HC6BEu6bClFxi8eD4vyZaD3TsU4WeUguKMlWYTIQErnnks45VONaY0rkUwBV98RZyOS90sgDNeLH6seQIXEkARGSJQfPYagnHEqBjB67nra8NfdP / eo7mH9kXp0lroYRAsFndYMjJP5aGps8GI1kFGYgYtU7qgVmqOVYATOB / rPb2z2cYZiocs + IvuttEgYpqhR7ovVytdC40pmIipxYNnw7uC1QjTUAxXg + AT + vEhqaZRL9MP / F2hM3Q aWFGOaogjX8f5ELOgrN9qCU4I2y9h + + + dZ62vs37IDvxtCcyX49DgsZYGofYGnZKzX1Fy y25NXaummVhPZavxhbcBllzImzCXWH6nSE04g4hY4Ujq1QXkXBKhTfUyNz8TehYW 1qDtkLcMnRcMG1PV5T1Qe08Gc + / + LQZHYpwcVbDjaEl3Zb3jzLrdWqJoOQkPqml RIWUpF2hDEh7 / phLXIqunojFbLuzE1jF1t92c4Srjk8znzh2IN8NGq4yExXGwFd6tjuYjDCl9FqqfPk0qcvxBLrnfoC9QAl8vEsdOdu3yrR2ZAYo1hHWE3gLOH40mMjgf2Tzs8 / v32206 + / 05hQKtfZCKl5Qzm7D5BnrkbzKGIwxeA1P / IYYMRfqKpwExTc "" iv ":" adc9ded96ea2382c8 404273000bcccae "," s ":" 845443376aba16ec "}