Politan Row in Colony Square now open in Midtown Atlanta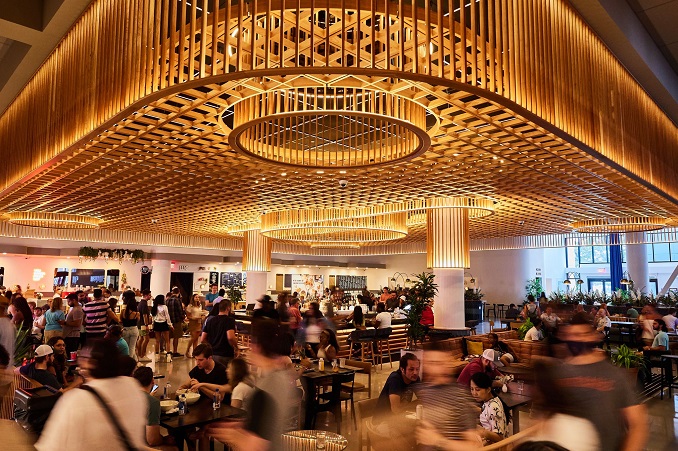 An avant-garde dining hall built especially for Midtown Atlanta is now open. The debut of Politan Row in Colony Square and its Chiefs marks the latest milestone in the $ 400 million redevelopment of the original Southeast mixed-use destination. Colony Square North American Properties (NAP) developer and food hall operator Politan Group cut the ribbon for the new food hall on June 25 at a public event.
"With Politan Row in Colony Square, we really wanted to bring an old-fashioned neighborhood restaurant vibe to bustling Midtown. Partnering with our female-led design firm Bell-Butler, we've sprinkled the story of the project throughout the space to create a welcoming and familiar atmosphere, "said Will Donaldson, Founder and CEO of Politan Group. "In addition to its attractive personality, the dining room also has several thoughtful hospitality elements integrated into the operational side that will provide our customers with an exceptional dining experience. We are confident this project will provide everything the Midtown food scene expects. "
Organized and operated by New Orleans-based Politan Group, Politan Row in Colony Square is the company's seventh and largest dining hall. It has space for 11 independent catering concepts, a central bar, an event space and a secret and hidden bar. The nine open vendors include Belli Pizzeria, Bun Mi Grill, Federal Burger, Gekko, Locale Cafe, Pretty Little Tacos, Tandoori Pizza and Wing Co., Unbeliebubble, and YŌM. The last two concepts are in preparation and will be announced shortly.
Politan Row's convenient hospitality approach comes with a unique high-end design. Guest assistants are reception staff who are available to assist guests at their tables or answer questions about meals and programming anywhere in the dining room. These employees are also responsible for transporting tables, providing water service from the central water station and removing plates. Guest Ambassadors greet guests at the door, answer the phone, book reservations and offer the Chef's Table package. Ambassadors basically serve as consumer guides and can also set up tables for larger groups up to 20 minutes before a group arrives.
More than half of the area of ​​Politan Row in Colony Square is dedicated to alfresco dining. The interior space, which can accommodate 250 people, is approximately 20,000 square feet, while the exterior space encompasses 22,000 square feet. The dining room also has a 24ft indoor / outdoor glass wall that opens up the interior space to engage with the outdoors. The outdoor experience includes The Plaza, The Patio, and The Grove.
The Plaza hosts over 200 annual Colony Square events. The Patio has a variety of covered seating, an outdoor bar and shuffleboard, and faces the stage and the Plaza. The Grove has plenty of seating under a tree-shaded canopy as well as a grand Spanish staircase leading up to the dining room.
The Midtown Dining Room is open Monday through Thursday from 11 a.m. to 10 p.m., Friday and Saturday from 11 a.m. to 11 p.m. and Sunday from 11 a.m. to 9 p.m. and offers several distinctive offerings, including Bar Politan, the Chef's Table experience and a fully equipped kitchen for events. Guest parking will also be validated up to two hours.
Bar Politan is a gorgeous 40-seat bar anchored in the heart of the dining room, surrounded by restaurant entrepreneurs and run by hospitality industry veteran Quinton Anderson. The bar's program focuses on handcrafted cocktails made with high-quality ingredients, an extensive wine selection and local beer options. All the syrups and shrubs are homemade, and the house cocktails include the effervescent margarita and the wheat claw (homemade seltzer water). The Politan bar specializes in classic cocktails, but off-menu classics are also available on request. The Central Bar has a happy hour from 4 p.m. to 7 p.m. Monday through Friday, with drink specials starting at $ 7. On Sundays, the Politan Bar will serve a full menu of brunch cocktails.
The chef's table is a special way to experience the dining room for parties of up to 12 people. The full-service, reserved dinner option is perfect for birthdays, guest dinners, or other special events, and features signature dishes from multiple chefs in the dining room. Prices start at $ 30 per person, with drinks available a la carte at Bar Politan. As daily reservations are limited, guests are encouraged to book their Chef's Table experience in advance or to inquire with the team of ambassadors. Guests should allow two hours for the experience.
The Blue Room is an in-house private event space offered by Politan Row. It is fully furnished and has a 40 foot ceiling with a retractable blue velvet curtain, a private bar, and A / V capabilities for meetings and presentations. The space is inspired by the legendary jazz hall of the same name in New Orleans, where Louis Armstorng and Ella Fitzgerald were frequent performers. The blue room can accommodate up to 70 people seated or 120 people standing. In addition to The Blue Room, the entire Politan Row in Colony Square, including the covered outdoor patio and stage, is available for shopping, creating the ultimate chef's table experience for up to 600 guests.
"Politan Row in Colony Square strikes the right balance between sophisticated and accessible; there really is something for everyone, "said Adam Schwegman, partner and senior vice president of leasing at NAP. "We have a long-standing relationship with Politan Group and knew they would be the right partners in bringing Midtown the fast and casual dining options that the area lacked. Our kitchen is now open and ready to serve unique cuisines, unique drinks and lots of great times.
For more information, follow Colony Square on Facebook, Twitter and Instagram or visit colonysquaremidtown.com.