Plaza still operating despite delays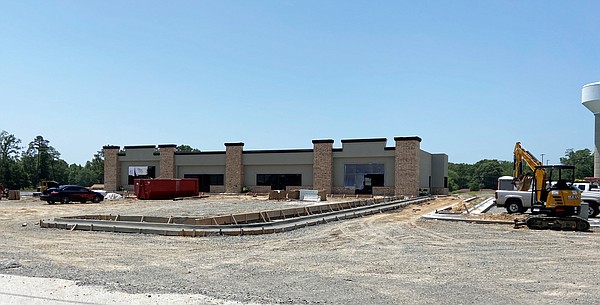 Although covid-related building material delivery issues persist in southeast Arkansas, work on White Hall Plaza is progressing at full speed.
It is located on Sheridan Road east of Interstate 530, exit 34, and next to Dairy Queen at 7810 Sheridan Road.
The Patel family is the investor and promoter of this project. Lead developer Umesh Patel said that despite some hardware delivery delays, the project is on schedule and is expected to open in late summer or early fall.
The single-story structure measures approximately 10,000 square feet and was custom-designed to house two national restaurant chains, Moe's Southwest Grill and Schlotzsky's, with dining and drive-thru options for guests.
The restaurants will be located at either end of the plaza, with two entry and exit ramps located on Sheridan Road to manage driving traffic.
In addition, there is room for two additional commercial or retail businesses.
SOUPS, SANDWICHES, BURRITOS
Patel said he received a lot of positive responses regarding the inclusion of the two restaurants in the plaza.
When open, these will be Moe's seventh location in Arkansas and Schlotzsky's 11th location, according to their websites.
"We are thrilled with Moe's Southwest Grill and Schlotzsky's," said White Hall Mayor Noel Foster.
As a developer and business owner of White Hall, Patel discussed growing the community.
"We're trying to support the city, to build the city in a positive way," Patel said.
Some of his business ventures included Dairy Queen, Holiday Inn Express, TownePlace Suites by Marriott, which is currently under construction, and Colton's Steak House, which he sold to new owners. These businesses are all located on Sheridan Road.
Joe Spadoni, president of the White Hall Chamber of Commerce, is also excited about the opening of the square.
"A lot of small towns are drying up, but our city is thriving," Spadoni said. "This is great news for White Hall. It's a good indication of what's to come."
GO WEST
Like many new and planned businesses in the city, the White Hall Plaza will be located at the western end of the city.
Across Sheridan Road from the plaza, Simmons Bank is building a new second White Hall branch, while across I-530 on the same street, Relyance Bank is building its new three-story corporate headquarters in 40,000 square feet.
Relyance's target move-in date is a few weeks away. Across from Relyance Bank, Patel is building TownePlace Suites by Marriott with a late summer or early fall opening date. The four-story, 80-room hotel will offer extended-stay options for guests.
In late January, the Jefferson Regional Medical Center announced plans for a new rehabilitation and behavioral health hospital to be located on the west end of town, north of the Sheridan Road development.
Built through a partnership with LifePoint Health, the new facility will be named Jefferson Regional Specialty Hospital. It will be built on existing hospital property near the White Hall Health Complex, located at 1600 W. Holland Ave.
Additionally, the White Hall School District is currently constructing a $14 million, 48,000 square foot fine arts building, also in Holland, which will be ready for move-in in October.
All are located just off I-530, exit 32.