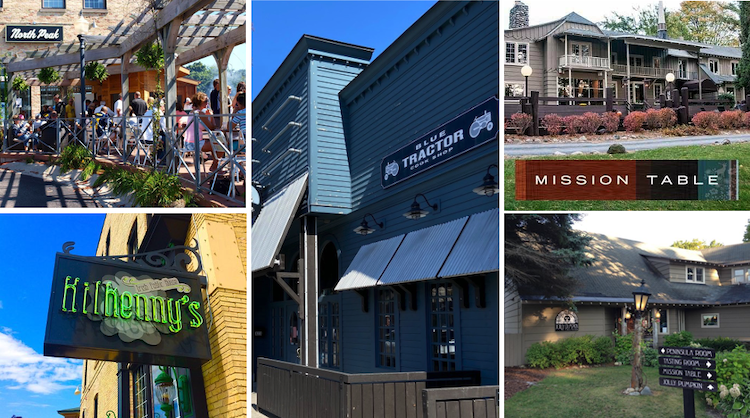 A dive into the five TC restaurants under the Mission Restaurant Group umbrella
By Anna Faller | June 4, 2022
Whether it's beer, Irish fare, barbecue or fine dining, local boys-turned-business partners Greg Lobdell and Jon Carlson know how to make a restaurant shine. Under the operation of Mission Restaurant Group, the duo own five local restaurants in Traverse City: North Peak Brewing Company, Kilkenny's Irish Public House, Blue Tractor Barbeque, Mission Table and Jolly Pumpkin Restaurant and Brewery. Soon West End Tavern will be added to this list.
"Greg and I are the common bond," says Carlson, "but as a team we try to give each [restaurant] his own individual personality.
Here, we'll dig into the history, food and beverages that make each piece in the Mission Restaurant Group (MRG) portfolio a star on the TC dining scene. Trust us, you'll be back for seconds.
North Peak Brewery
Opened in 1997, the North Peak Brewing Company led the way in becoming one of the top breweries in the region. "[Breweries] were relatively new at the time, so we put [ours] right in your face," Carlson says.
Located in the historic building that once housed the Big Daylight Candy Company, North Peak's distinctive industrial feel is highlighted by soaring wooden ceilings and winding paths of metal ductwork. Add to that a central bar and plenty of brewery paraphernalia, and there's not much left to question that beer is the name of the North Peak game.
In fact, the brewery's spinning pints are the peg she hangs her hat on. "We take great pride in what we do as a brewery," says Mike Lloyd, Managing Director and Partner of North Peak. The North Peak local menu also grabbed this pull. "Our menu has really evolved into something that makes North Peak a destination," Lloyd adds.
Part of this unique dining experience is the impressive selection of beer-infused bites. These highlights include the Northern Express 2022 "Iconic Eats" nominee, the white cheddar beer soup (filled with devilish IPA and topped with honey mustard pretzels) and the porterhouse marinated hanger steak, which arrives with seasonal vegetables and decadent cheddar mashed potatoes. "It has this amazing flavor," Lloyd saus of the steak.
Fast forward more than two decades, and North Peak's business continues to soar. And with the recent return to their full pre-pandemic menu – "We've been so limited for so long," says Lloyd – North Peak is looking forward to a season of high-capacity service. "We like to be on the tip of everyone's tongue when we talk about what to do in [town]says Lloyd, "and we feel like we're going back to that consistent service we've provided.
Kilkenny Irish Public House
You don't have to go far to find your next MRG stop. Nestled beneath the timber-lined walls of North Peak is Kilkenny's Irish Public House. "What makes Kilkenny's and North Peak great is that they feed off each other," says Lloyd. "Once we get [guests] in the building, we keep them here all night.
Unlike the open plan and polished metal industrialism of North Peak, Kilkenny's tight quarters and private nooks immediately mark it as something special. "You feel like you've stepped into Ireland, and that's what it was meant to be," says Lloyd.
It is this commitment to authenticity that sets Kilkenny's apart from other pubs. "Greg and I scoured the state of Michigan to every antique store we could find. We handpicked everything all over the place," says Carlson. More than a decade after opening, Lobdell and Carlson are still making adjustments. "We keep adding to it," says Lobdell, noting that they have a few pieces direct from Ireland, "so it's fun to see how it's evolved."
This selective concept also applies to the menu. Known for its Irish-inspired offerings – which Lobdell traveled to Ireland to help recreate – Kilkenny's hearty pub-style fare includes Great Lakes Fish and Chips (beer-battered and served with tartar sauce at tarragon and ginger and coleslaw) and the classic Irish Corned Beef Ruben.
Wash it down with one of the pub's many pints, including MRG's own ales and lagers, plus the quintessential Guinness, before embarking on trivia or listening to live music, both being offered regularly in the pub.
Blue Tractor BBQ and Blue Tractor beer garden
Opened in 2006, Blue Tractor Barbeque brings new meaning to the home dining sphere. "[The restaurant] was a personal creation," says Lobdell. An architectural tribute to the fathers of Lobdell and Carlson, the restaurant's family atmosphere and comfort food theme are a nod to their roots.
That farmhouse-inspired warmth is apparent as soon as guests walk through the door. Decorated in timber tones and agrarian lighting, Blue Tractor features a main dining space, punctuated by the barnwood bar in the center, and a side room reserved for private events. Once inside, diners can choose between a table or one of the comfortable wood-panelled booths. "We want you to feel comfortable in the space where you eat," says Lobdell.
The menu will certainly put you at ease…and perhaps loosen your belt a notch or two. Built around homemade barbecue classics, Blue Tractor's hearty food fills bellies and souls to the brim. Savor the signature pork mac and cheese, drizzled with tangy barbecue and gouda bechamel and finished with house-smoked pork shoulder, or treat yourself to a Hay Bale Burger pretzel roll, topped with double-smoked bacon, onions, cheddar and bourbon chipotle BBQ sauce.
Once you've finished your meal, continue to the back of the space for a nightcap at the Blue Tractor Beer Garden. Formerly known as The Shed, the garden's 10 picnic tables are serviced by a 1950s Chevy "beer truck," where patrons can order drinks and snacks. Choose from one of the truck's eight Michigan taps—or head back inside for a bigger selection—before you let the food coma begin.
Table of missions
It is with the old Stickney Estate on Old Mission Peninsula that Lobdell and Carlson come full circle. "We grew up on the Old Mission Peninsula," says Carlson. "[The estate] was this mythical place with a ghost haunting it, and we wanted both spaces to work.
You read that right – the two spaces mean there were two restaurants operating in the 1920s mansion: Bowers Harbor Inn and The Bowery. The former was a fine-dining establishment prepared for date nights, while the latter served a family-friendly menu and atmosphere.
In 2010, Bowers Harbor Inn became Mission Table. Today, the restaurant's laid-back, upscale ambience combines the "white linen" elegance of yesteryear with the seasonal spoils of local producers. Led by Chef and Managing Partner, Paul Olson, Mission Table's menu is known for its artisan plates and farm-fresh ingredients.
However, a wave of staffing issues, primarily due to COVID-19, forced Mission Table to adapt. Instead of serving dinner every night, general manager and partner Jim DeMarsh fills the dining room with private parties. "There are a lot of small weddings," he says, "as well as birthdays and corporate events."
While the space remains in daily use, the menu has also been reconfigured. "We are capable of doing whatever the customer wants, but we have a baseline that our customers can work with," he says. Customers can choose from a range of selections, such as the popular crispy cauliflower entrée (served with smoked paprika and garlic aioli), as well as seasonal freshwater fish, including whitefish, salmon and lake trout.
While DeMarsh anticipates private parties will make up the bulk of immediate business, Lobdell and Carlson remain hopeful of a return to traditional service. "We're ready and the place is ready," says Carlson.
Jolly Pumpkin Restaurant and Brewery
When you walk through the second floor lobby of Mission Table, you will find yourself in another world. Formerly JW Stickney's coach house, the Jolly Pumpkin Restaurant and Brewery (formerly The Bowery) opened in May 2009.
Featuring original ceiling beams and an often-lit central fireplace, the restaurant's rough-hewn accents and wooden seating create a distinctly old-world ambiance. "It's very hardy," says Lobdell. "We wanted to celebrate the history of architecture."
The couple also wanted to celebrate mousse and ciders, as well as the talented creators they work with. As such, their selection of rotating taps features North Peak Brewing beers; Jolly Pumpkin Artisan Ales (perhaps best known for their sours); nomadic ciders; and recently, Old Mission Beer Company libations. "It's the only brewery on the Old Mission Peninsula," says Carlson.
In addition to beers and IPAs, Jolly Pumpkin's Craft Series offers many sour selections. For summer, Carlson recommends the brand new Aquamarine Dream. Fresh from five months in barrel, this pastoral wild fruit beer is brewed with bramble berries and lime for an abundance of sweet and sour funk.
To accompany your favorite pour, Pumpkin's two artisan kitchens offer a dizzying array of beer-based dishes, including the American Wagyu Beef Burger. Chefs top grilled Wagyu beef with Wisconsin cheddar cheese, arugula, tomato and a layer of sriracha mayonnaise before serving it on an Avalon Bakery bun. (Our suggestion: Upgrade your fries with truffle salt and rosemary.)