A luxury hotel in Arizona will bring contemporary style to the 'Old Town' district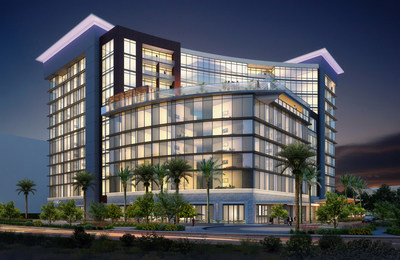 Surface construction is currently underway for the new Caesars Republic hotel in Scottsdale, Arizona.
Led by developer HCW, the 45-m (147-ft) tall, 24,155m2 (260,000 square feet) the hotel will include five luxurious top-floor entertainment suites, two Italian restaurant concepts by celebrity chef Giada De Laurentis, a 1,254 m2 (13,500 square feet) indoor/outdoor event and meeting ballroom, and a pool lounge and restaurant on the seventh floor.
Caesars Republic Scottsdale is designed to bring a new concept to Scottsdale's "Old Town" area, which is one of the most visited lifestyle neighborhoods in the country. When completed, the contemporary and expansive glass structure will stand out from other nearby stations. The hotel's architecture and interior design elements will pay homage to its Las Vegas roots, while its stone and faux wood accents complement the adjacent luxury residential area.
Caesars Republic Scottsdale will include a 650m course2 (7,000 sq ft), column-free ballroom with 10 m (34 ft) long sliding glass doors that open to the 650 m2 outdoor lawn for banquets. Additional event spaces will include a dedicated space of 325 m2 (3,500 sf) outdoor event space on the eighth floor and a 344 m2 (3700 sf) meeting space on the second floor.
The hotel will also feature high ceilings, dedicated workspaces and a fitness center located across from the rooftop pool. Standard rooms will be accompanied by 28 luxury wellness suites, each with their own unique amenities. The design will take full advantage of the desert and mountain views.
Caesars Republic Scottsdale is expected to be completed in early 2024.